Presents
BPIS GCh. Nikmor's Perfect Storm
Sire: Ch. Sandpiper's Pursuit of Happiness, BISS
Dam: BPIS BOSS GCh. Nikmor's Lone Star
Whelped: June 26, 2015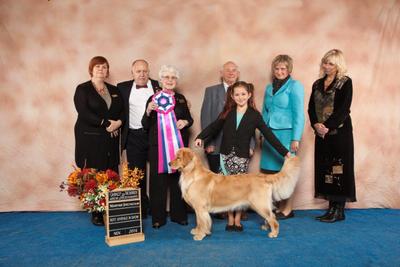 I think this is my most proudest moment any breeder can have. No it has nothing to do with my dog winning anything. Madison had never shown a Golden Retriever before and wanted to learn. So remembering that someone once took the time to teach me, I took the time to teach her. Madison is a very talented little girl with such a bright future ahead of her. She showed Paisley earlier in the day, first time she ever showed a Golden, and Paisley's with a different person showing her. They competed in the morning and did so well together. I asked Madison if she would like to show her that evening in the Maritime Spectacular. The Spectacular is a once a year event your dog has to qualify for. Paisley qualified for the Adult event and the Juvenile event. Madison and Paisley placed second in the Adult Sporting Group and THEY WON the Juvenile event!!!! This photo of the two of them brings the biggest smile to my face. I am so very very proud of them. I hope Paisley has the chance to team up with the very talented Madison again :))


Achievements:
Paisley is from Dallas' first litter with Percy! We are very excited to see what the future holds for her. In her first show weekend as a Baby Puppy, Paisley wins Best Baby Puppy in Specialty Show!!!
Update!!!! Paisley is now know as BPIS Can CH. Nikmor's Perfect Storm!!!!! In a very short puppy career Paisley obtained her Canadian Championship along with multiple Group placements and Best Puppy in Groups. Our most proud moment was Paisley recently winning Best Puppy in Show under judge Olga Gagne!!!! We are so very proud of her and all her accomplishments as such a young dog. She is taking some time off from the show ring to mature and will be back. I can't thank Jessica enough for all her hard work and success with Paisley in the show ring :) Those two are a winning team.
Update!!! Paisley is now know as BPIS GCh. Nikmor's Perfect Storm!!!
Paisley has obtained all her health clearances and is taking a break from the show ring and hopefully take a try at motherhood!